The Essence of Milk NFT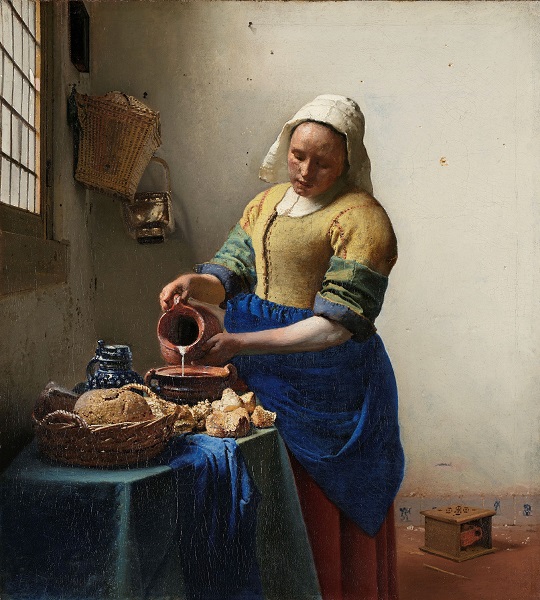 The Essence of Milk is a limited NFT Collection. It consists of all the colors of Dutch Baroque painter Johannes Vermeer's The Milkmaid. All his yellow's, blue's, white's and darker colors. Vermeer has been called the master of light and color. Let's zoom in and see for ourselves.
All 90 images are algorithmically generated from 1 'mother'-image, the original painting, that has been pixelated into 2.500 pixels. Every image consists of 25 (5×5) pixels, together containing the essence of that part of the painting.
The Essence of Milk is stored as 90 ERC-721 tokens on the Ethereum blockchain. Purchasing an image costs 0.02 ETH.
The Essence of Milk in 90 images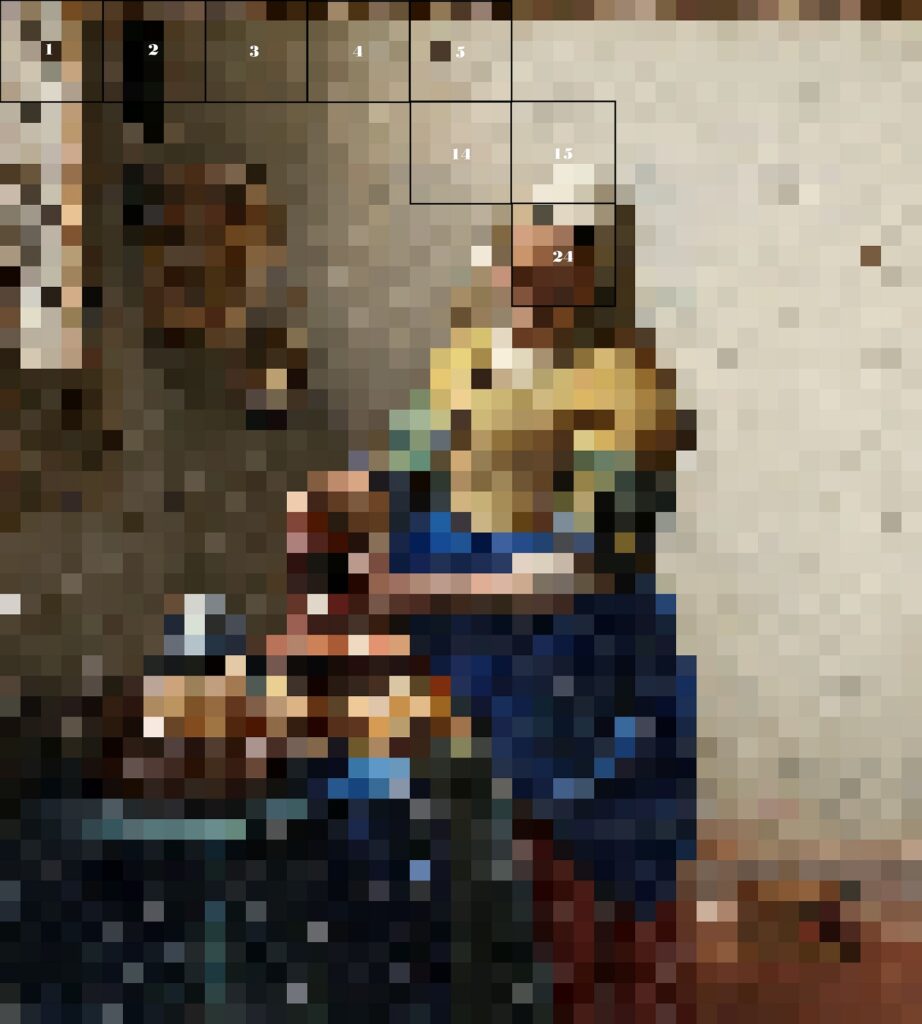 Every image is taken from this pixelated version of the original painting, downloaded from the archives of The Rijksmuseum. Every image consists of 25 pixels. They are numbered, beginning in the top left corner and ending in the bottom right corner. No pixels were omitted. All images together form the original pixelated painting.
The are 6 random images that are now for sale at Opensea.io.
About the Artist
My name is Vincent Kouters. I am a part time writer and part time digital artist, based in Amsterdam. I am creating digital art since I was 20, at the beginning of this century. Creating abstract drawings and photo's in MS Paint en Adobe Photoshop. My first NFT drop was in February 2021. Blockchain technology has allowed me to fulfill a dream of me, bringing my own digital art to the masses and to the metaverse.
I am dedicated to adding value to this project, every step of the way, for fans and collectors. I will be donating 5% of the total proceeds to a special charity that helps less fortunate children receive sports and culture education at school. Proof of this can be provided after purchase.
The Essential Roadmap
After 25% of the image are sold a new Essence collection will drop on Opensea.io.
After 60% of the images is sold a merch shop with Essential Art wil be opened.
After 100% of the images is sold the Essential Studio will be opened.
Owners of multiple Essence images have a vote in deciding the next work of art to get the Essential treatment.
Get in touch on Twitter or Discord
Buy The Essence of Milk now on Opensea.io